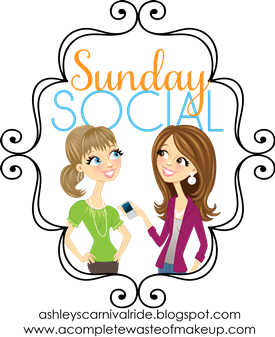 Today I am linking up with Neely for Sunday Social!
Best trip you've ever been on
This would probably have to be our trip to the Outer Banks. I actually just wrote about this trip a few days ago not realizing I would be answering this question! Anyways, Tyler and I went to the Outer Banks for a week with his entire family. Besides the 8 1/2 hour drive each way, it was a blast. We spent all week laying by the pool, laying on the beach, cooking great food and drinking from the stocked outside bar. Hey, this family knows how to do a family vacation right! This is a picture of the house we stayed in. Right on the beach, it was amazing!
Best idea for a girls weekend trip
A weekend get away to NYC for sure. I've done this with a few of my girlfriends and we had a great time! Sight-seeing, shopping and girl talk!
Best idea for a couples trip
In a world where we could afford any vacation we wanted, I would have to say Europe, I want to go to Italy so bad, Tyler wants to go to Germany and Ireland. That would be the perfect vacation. But in reality we can't afford that. Not right now anyway. So for what we could afford, I would have to say maybe Florida! Sunshine, beach and romance!
Best vacation on the cheap
I would probably say a weekend get away to the nearest beach. You can drive and the more people who go and split gas the cheaper it is! Plus around here the nearest beaches are in New Jersey and you can get a pretty cheap hotel for the weekend! And it's always fun to walk the boardwalk and ride the rides.
Place you most want to visit
Italy. Tyler and I want to go soo bad. These views and wine tasting?? What more could a girl want? One day!
Vacation/Travel necessities
My whole closet? Cute swim suits! I'm a terrible packer! When I go to get dressed in the morning I can't find anything to wear, but when I'm packing there are so many possibilities that I need to bring it all!